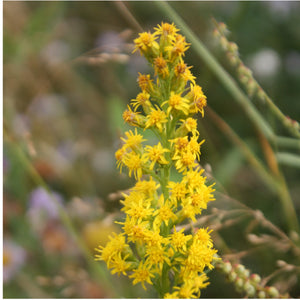 Mountain Goldenrod
(Solidgo spathulata)  Yellow flowers, grows 20-50 cm tall, blooms August to early October. Adds bright colour to a fall garden. Spreads rapidly and forms extensive colonies so best to contain it.
Planting Instructions: Seed in early June or late fall.  Sow seeds thickly and 3 to 6 mm (1/8-1/4") deep. 
Habitat: Common in grassland though out Prairies, Parklands and southern Boreal forest.
---
We Also Recommend