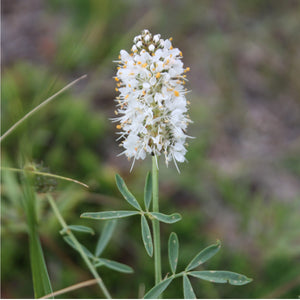 White Prairie Clover
White column shaped flowers, plants grow up to 40 cm tall, blooms from July to September. Roots fix nitrogen.
Planting Instructions: Scarify seeds by soaking in hot water (80 C) for 24 hours, then moist chill seeds for 10 days before sowing in spring.  No treatment required if planting in fall. Plant 5 to 10 mm deep.
Germination:  3 to 5 days after seed treatment
Seed Sized: 300 to 500 seeds per gram
Habitat: Dry grassland and coulee bottoms.
---
We Also Recommend